Day Camp * CIT Program * Spring Holiday Camp
Yardville Day Camp 2023
Click Here To View The Open House Video * Click Here To Download The Open House Info And Pictures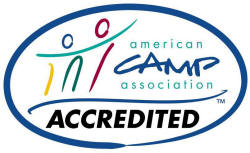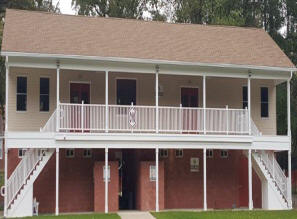 TESTIMONIALS

"I cannot begin to express how lucky I feel to have been able to send my boys to CYO this Summer. What an incredible experience you created every single day across all age levels. From the friendly greetings each morning as employees assisted with parking, to the friendships made, dance parties, nature experiences, friendly positive competition, beautiful artwork, to the fact that my boys have become extremely confident swimmers in a matter of 2 months. I thank each and every one of you for making CYO the very best way to spend a Summer! We will see you again next year! (And the next and the next and the next….) Christine Bischoff

"I have 6 year old twin boys that were in group 3 for the full summer. This was our first summer in camp and we specifically chose the CYO based on the reputation. My boys have been in day care since 5 months old (total of 3 centers) so we have had our share of child care experiences, the CYO program is exceptional. We had heard excellent reviews and even at one time tried to get in the day care but there was a waiting list, which didn't work out for us but is always a good sign. As a first timer, the program did not disappoint. From the initial Orientation to the last day of camp, everything was done top notch. For various reason we had to communicate with carious CYO team members specifically Pat, Nurse Joyce, Counselor Michelle, and Kara DeBonis and EVERYONE could not have been more responsive, helpful, and professional. My one son has a serious food and seasonal allergies and the staff took every precaution, going above and beyond, to ensure that he was safe. I believe this Summer at camp reinforced and helped build my boys independence and confidence." Jennifer Dromboski
In our 65th year of operation, our CYO Day Camp, which is located on a beautifully maintained 23-acre wooded site on Yardville-Allentown Road in Yardville, New Jersey, is better than ever! Each year our CYO Day Camp Staff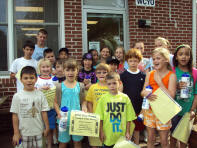 strives to help each camper to enjoy a healthy, happy summer while developing in body, mind, and spirit. The CYO is proud that our Day Camp is accredited by the American Camp Association, a prestigious honor, and the gold seal in the camping industry. The CYO Day Camp is accredited through the ACA until August 31, 2023.
We work to instill values such as respect (for self and others), fair play, sharing and cooperation. We stress safety first! Rules for acceptance and participation in the program are the same for everyone regardless to race, handicap, gender, color, religion or national origin.
Registration for Summer 2023 will start for returning campers on November 14, 2022 For new campers it will open on February 1, 2023. To register you need to come to the Camp at 453 Yardville-Allentown Rd. to fill out the registration forms. If you have questions contact us at (609) 585-4280 x 116.
Camp Staff
Our staff is led by a team of camping professionals with over 50 years of camp experience combined. The CYO Executive Director Thomas Mladenetz, M.Ed., has been administering camp programs for 31 years. Patrick Hardiman, Yardville Branch Director, in his 25th Camp Season, oversees the Day Camp. Tom, Patrick and their families all reside in Hamilton. The group Senior Counselors are Certified Teachers or college students many of whom are pursuing careers as educators. Certified lifeguards teach swimming lessons and supervise recreational swim.
Download 2023 CYO Day Camp Registration Forms:
2023 CYO Day Camp Information Sheet
2023 Registration Form
Health History Form * Health Examination Form
Extended Care Form
2023 Food Program Registration Form
Click Here to Pay For Day Camp Online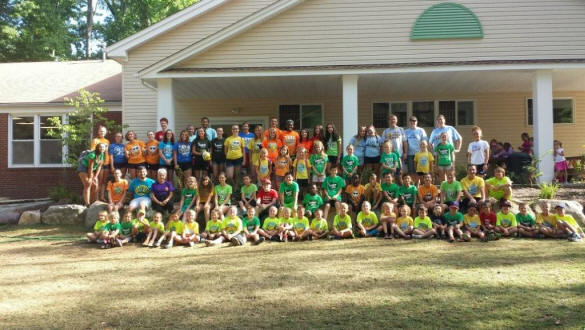 CYO campers and staff pose for a picture on Retro Camp Tee Shirt Day.
Regular camp hours are 9:00AM – 4:00PM. Additional morning hours are available through our extended care program from 7:30AM to 8:50AM and additional afternoon hours are available through our extended care program from 4:00PM to 5:30PM for an extra charge.
Activities: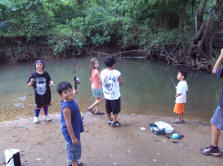 Morning Circle Time

Swimming

Red Cross Swim Lessons Daily

Arts & Crafts

Yardville School Field/Playground

Ping-Pong

Free Arcade Games

Hiking

Basketball (2 courts)

Special Events - Camp Talent Show

Soccer

Horseshoes

Photography

GaGa Court

Beach Volleyball

3 Playgrounds

Football

Kickball

Camp Olympics

Mini Golf

Camp Carnival

Cargo Net

Nature Study

Fishing

Radio Club

Dance Club

And So Much More...
Yardville Day Camp 2021
Click Here To View The Open House Video
Click Here To Download The Open House Info And Pictures
Click Here To View The 2019 Day Camp Video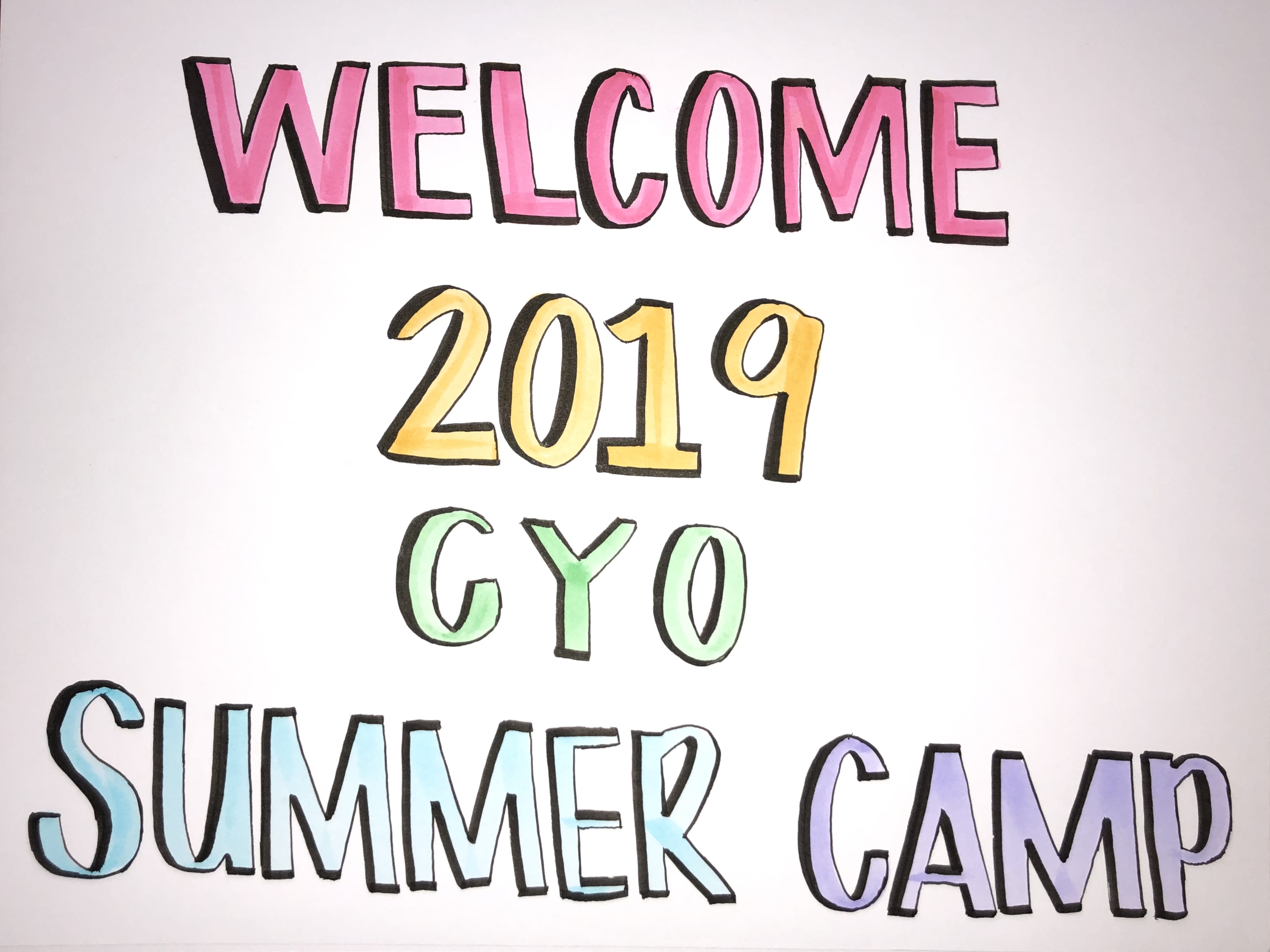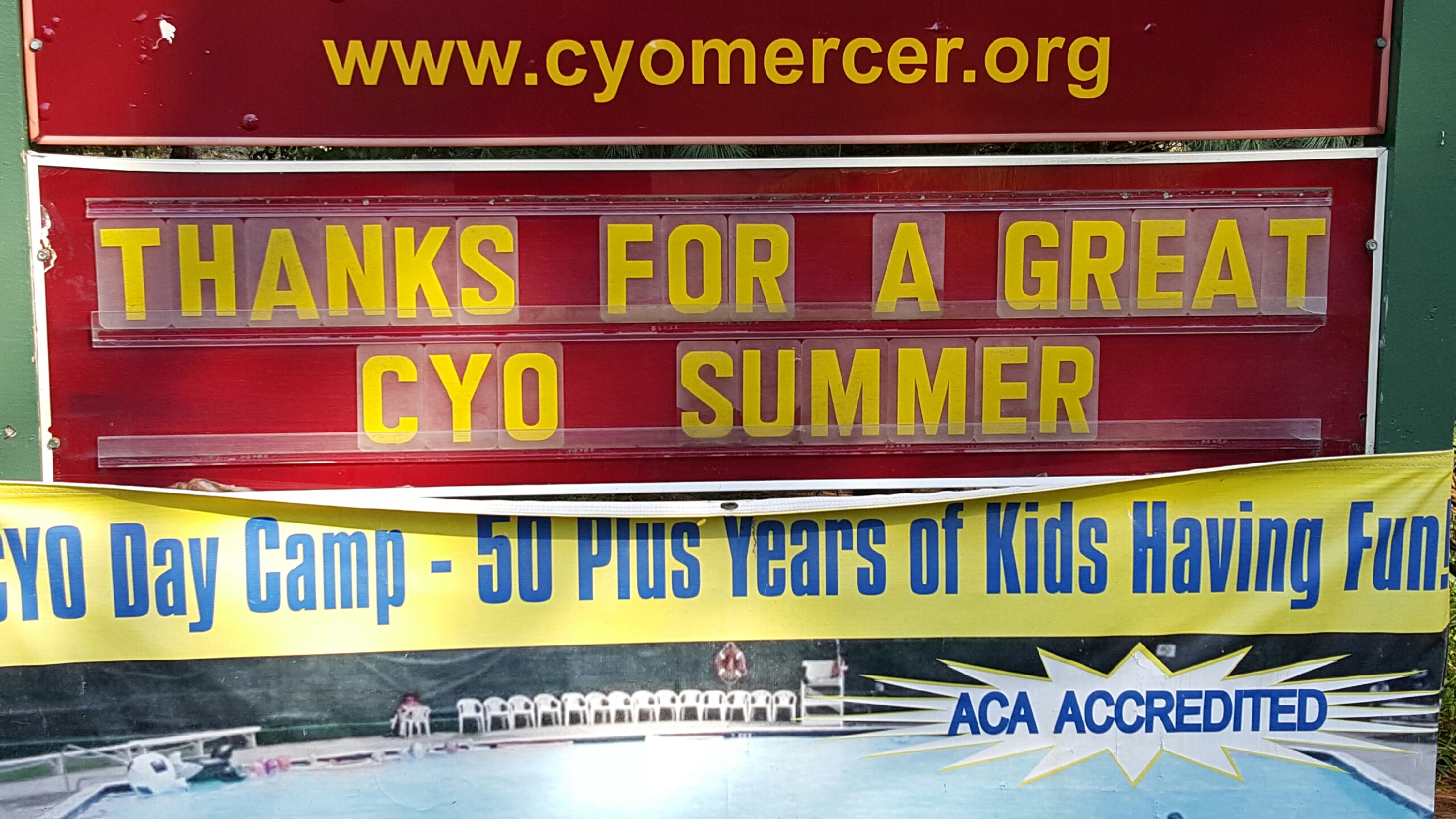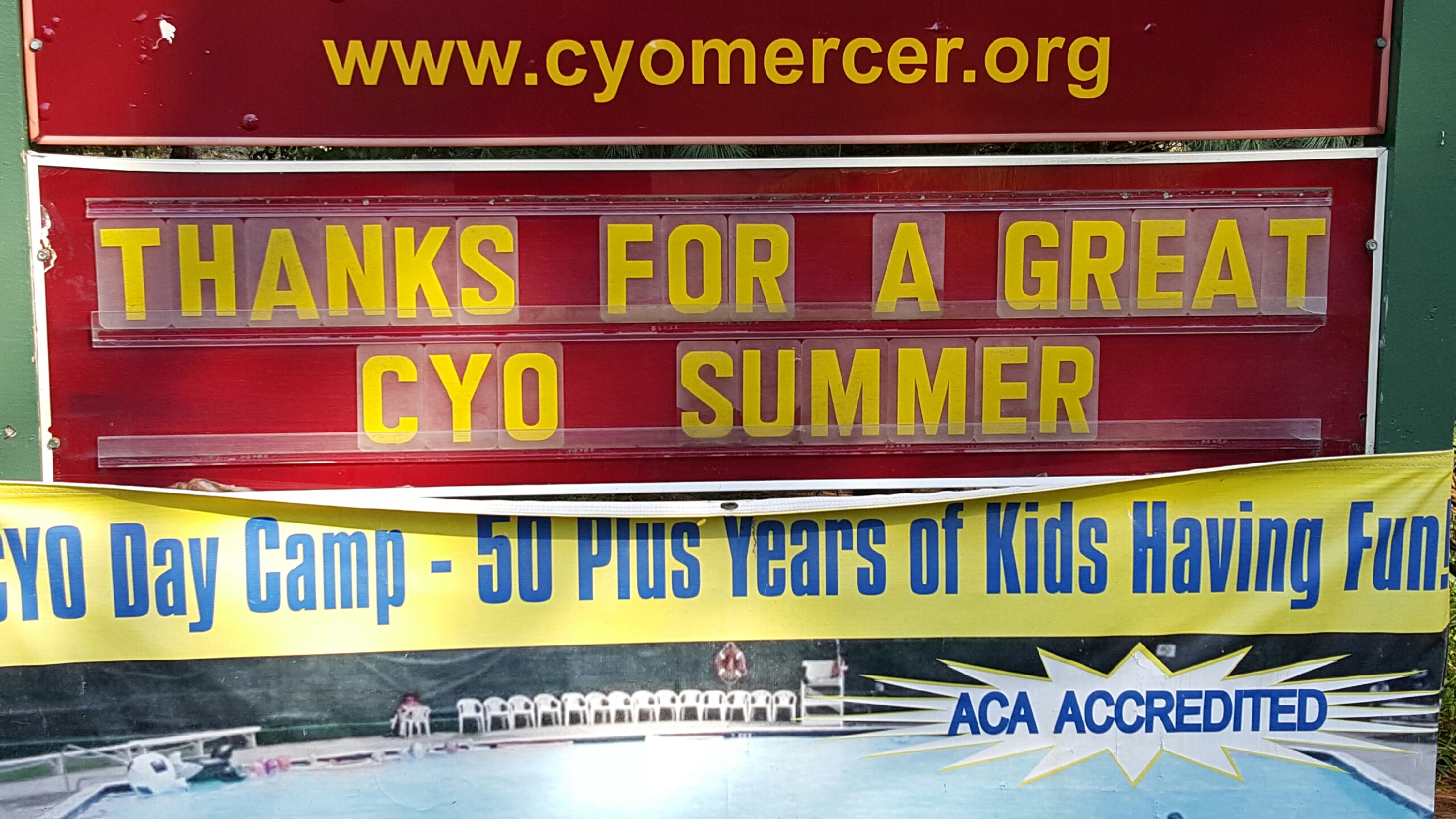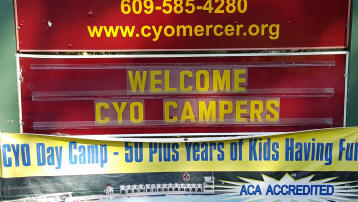 2015 CYO Summer Camp Yearbook
To read the Monitor Newspaper article about the CYO Day Camp Talent Show click here.
MP4

Large File

Windows Media

Smaller File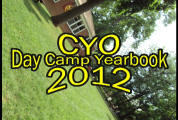 2012 Day Camp Video Yearbook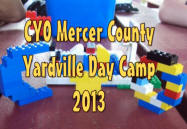 Click Here to view the 2013 Day Camp Video Yearbook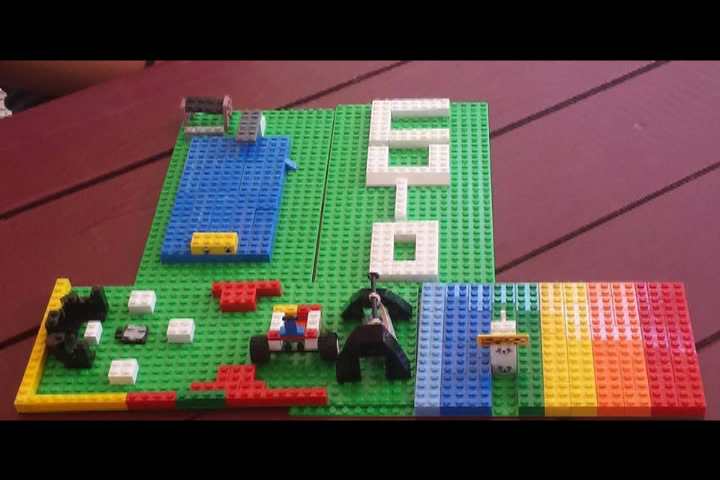 Click Here to view the 2014 Day Camp Video Yearbook
Yardville 50th Anniversary of Day Camp (1958 - 2008)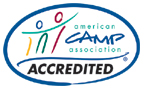 The CYO Yardville Day Camp celebrated its 50th Anniversary during the Summer of 2008. The Day Camp, which opened on July 7, 1958, celebrated the anniversary with many fun and special activities and events for the campers all Summer long. On July 12, 2008, a special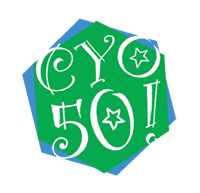 50th Anniversary Picnic was held at the camp for former and current camp staff, families, and CYO friends.
Hundreds of people attended the picnic; many staff from the first year the camp operated, and they reminisced with old friends and former co-workers that they haven't seen in years. Many guests toured the 23 acre campground and recalled fond memories of summers past.
The legendary CYO Camp founder and former Camp Director, the late Monsignor Leonard Toomey attended the picnic and visited with former staff members. Bishop Smith was in attendance as well, and blessed the new CYO Peace Garden, a reflection area in the camp that has been dedicated to all former CYO Day Camp staff members that have worked with the children here over the last 50 years.
The CYO is proud that over the last 50 years the Camp has gained the prestigious honor of being accredited by the American Camping Association. In addition, we had over an estimated 10,000 campers enjoy all we have to offer and over 1,200 staff members work here. We are looking forward to another 50 plus great years at the CYO Yardville Day Camp!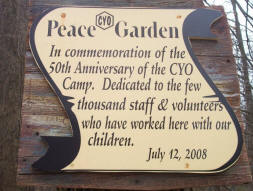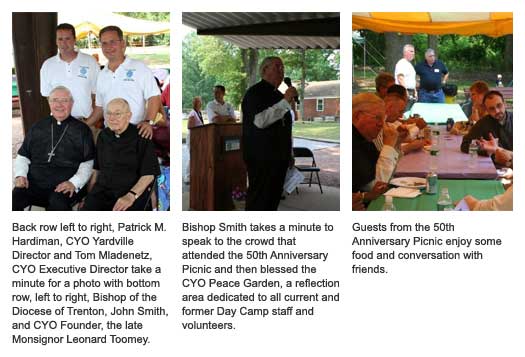 Yardville Counselor - In - Training (C.I.T.) Program
This Program is designed to train 14 and 15 year old CYO Day Camp graduates with the skills to become successful Junior and Senior Counselors. Eligible (former CYO Campers) and interested candidates should contact the CYO in February to receive an application packet. All candidates would need to fill out an application, write an essay on why they would like to be a Camp Counselor, submit their most recent report card proving passing grades, and interview with one of our full-time staff members.
A one time, $25.00 application fee is required. Second year, 15 year olds re-applying do not need to submit an essay for the second year, however, they still need to re-apply, submitting their report card, and possibly re-interviewing. The Program is very competitive, and spaces are limited, not guaranteed for being a Day Camp graduate.
Costs of the Program are as follows for 14 year olds: $100.00 for session 1 and $75.00 for sessions 2, 3, and 4. There is not cost for 15 year olds, and second year 15 year olds are paid $5.00 per hour. We do provide a complimentary lunch for each CIT; however, we do not provide transportation. Candidates can be chosen to work the entire Summer, or by the session (s). In conjunction with the CIT Program we also offer a 4 week Teen Travel Camp Program for 14 and 15 year olds.
To download a 2023 CIT Application click here
For more information on the CIT Program contact Kate Monroe at 585-4280 x 101 or via e-mail at kmonroe@cyomercer.org
2020 CYO Spring Holiday Camp
The 2020 CYO Spring Holiday Camp will operate Friday, April 6th through Thursday, April 9th from 7:30am – 5:30pm. You can register for one, two, three, or all four days./ The program is for students in grades K-6, and geared towards helping working parents that are in need of child care assistance when schools are closed.
The cost is $50 per day of $180 for all four days. Trips and lunch are provided each day.
To download Spring Holiday Camp Flier and Registration Form click here.
For more information on the Spring Holiday Camp contact us at (609) 585-4280 x 116